Pro AV Catalog
Manufacturers
PRODUCT CATEGORIES
Matching Keywords
Model Numbers
205 Commercial Court
Morganville, NJ 07751
United States

Aurora Multimedia Corp.
Aurora Multimedia products incorporate state-of-the-art technologies that surpass typical specifications and features. Our history of innovation – from the introduction of the industry's first non-proprietary, Web-standards-based IP control systems and touch panels, to today's advanced HDBaseT™ and IPBaseT™ IP video distribution solutions – has made us a dominant force in the AV industry.
Model: IPX-TC3A-WP3-C-Pro-B
The IPX-TC3A-WP3-Pro provides one of the most advanced IP Streaming solutions on the market utilizing SDVoE technology. It is the industry's first 4K2K transceiver with zero compression (4K60 4:2:0, 4
Featured Product
What is IPBaseT?
Aurora's IPBaseT™ technology combines 4K uncompressed video with zero-latency seamless switching, video wall and multiviewer modes, digital audio, USB 2.0, Ethernet, and control. Utilizing the bandwidth of a standard 10G copper or fiber network, IPBaseT supports a large, seamless UHD video and audio matrix, and it does so while replacing multiple technologies and products with a single-box distributed platform. The days of needing a separate AV switcher, control system, video-wall processor, audio/DSP converter, and more are a thing of the past!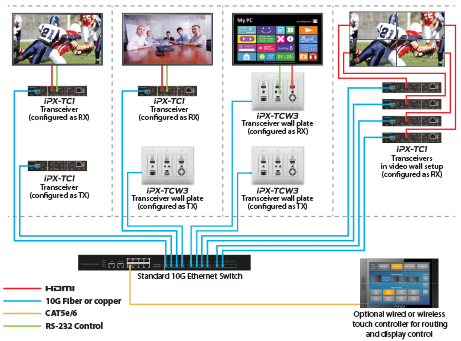 _______________________________________________________________________________________________________
What is a transceiver?
A transceiver is a single unit that can be configured as a transmitter (input) or a receiver (output). This allows for the following benefits over a traditional TX/RX based system:
Ease of ordering – no need to worry about ordering pairs, just order as many transceivers as you need for your total inputs and outputs combined
Simplified inventory – stock one SKU, and rapidly deploy to a job without worrying about the number of TX and RX units required
Rapid toubleshoooting – quickly swap transceivers to troubleshoot a problem, even if the nearest transceiver is configured as the opposite mode (use an RX unit to troubleshoot a TX issue by simply changing the mode)
Dynamic configurations – programatically change the TX/RX mode of a unit on the fly to allow for flexible room configurations
IPX Series Transceivers
With the IPX series transceivers, audio, video, data, and control can be sent securely to one or many units using off-the-shelf 10G Ethernet switches. When the IPX-TC1 is set up to be a transmitter, the 2 HDMI inputs become a source switch and the HDMI output becomes a potential loop out. When set up as a receiver, a user can select the local HDMI inputs or an IP source. Seamless switching of the sources further enhances the presentation. Regardless of how the IPX-TC1 is set up, the audio can be de-embedded at any location.
You must be logged in to add more than four items to your comparison list.
Register today!
With a free My-iQ account, you'll be able to keep track of the latest updates and event notifications from your favorite AV manufacturers, manage your own projects and discover new pro-AV products.
Thank you!
Someone will be in touch with you shortly.
Contact Lowrance Sound Company, Inc.
Lowrance Sound Company, Inc.
2132 Nailing Drive
Union City, TN 38261
USA
(901) 885-4504
www.lowrancesoundcompany.com
Request more information from a dealer near you
Request more information from a dealer near you