Pro AV Catalog
Manufacturers
PRODUCT CATEGORIES
Matching Keywords
Model Numbers
Building on the success of the RoboSHOT 30E NDI Camera, Vaddio recently launched its RoboSHOT 12E PTZ Camera with NewTek NDI®, a technology that allows video systems to automatically detect and communicate with one another over IP, enabling video workflows across Ethernet networks.
The new RoboSHOT 12E NDI Camera offers a low latency, high performance solution in the NDI ecosystem. The RoboSHOT 12E NDI Camera is a recognizable video source by other NDI-enabled applications and devices connected to a standard local area network. In addition, the camera's pan/tilt/zoom and other controls can be accessed through NDI, creating a complete IP workflow for operator control.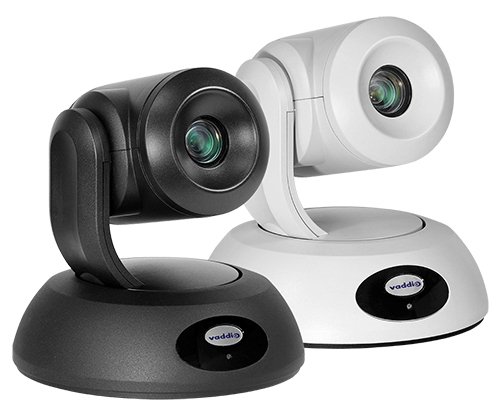 "The addition of a 12x zoom camera will bring the highest quality, lowest latency NDI video found in our flagship NDI camera into smaller rooms at a competitive price point," said Robert Viren, Product Manager at Vaddio. "NewTek's NDI Technology complements Vaddio's philosophy of being simple to install and operate for our customers."
NewTek's NDI technology allows video and audio sources to be shared across a network, eliminating the need for costly direct connections, expensive cable runs, and infrastructure upgrades while turning every source into a destination available anywhere on the network.
"Vaddio has introduced additional IP video solutions the last 12 months," said Viren. "Whether a customer is already using NewTek control devices or just getting started with IP-based video, our goal is to have a professional quality PTZ camera to fit any project design."
RoboSHOT Elite Series Cameras, Vaddio's latest generation of professional cameras, are designed with an 1/2.5-type Exmor R CMOS sensor and deliver striking, high-definition video image quality. Cutting-edge image signal processing (ISP) results in better light-gathering capabilities, incredible contrast and sharp 1080p/60 video, even in dim lighting conditions.
You must be logged in to add more than four items to your comparison list.
Register today!
With a free My-iQ account, you'll be able to keep track of the latest updates and event notifications from your favorite AV manufacturers, manage your own projects and discover new pro-AV products.
Thank you!
Someone will be in touch with you shortly.
Contact Lowrance Sound Company, Inc.
Lowrance Sound Company, Inc.
2132 Nailing Drive
Union City, TN 38261
USA
(901) 885-4504
www.lowrancesoundcompany.com
Request more information from a dealer near you
Request more information from a dealer near you